Choosing the right software when starting an online store is one of the really important things to create a successful e-commerce site. While there are many hosted solutions, like increasingly popular Shopify and other less successful services, having your own shop software is much better, as it gives many more options and more customization.
Hosted Stores
They usually have outdated templates, not slick enough for a modern shop. And very limited options for customization. They are also taking some monthly fee, usually not a lot of money, but still annoying. Shopify is more modern and nice, but still, it doesn't have a multilanguage option. They propose to make a different version of a site, so the fee is increasing substantially. So if you need a basic nice shop, with one language, preferably English, it could be OK. Recently some developers released Shopify App called Langify, which may close the gap with multilingual site functionality, for a monthly fee too.
Open-Source Based Custom Stores
There are several open-source developers that provide store software solutions. A decade ago the most popular app was OSCommerce, which is still alive, but I guess not many ppl are using it, due to a big lag with previous versions update. Very big shops these days are using Magento, which is incredibly robust, unbelievably complex for developers, and very hungry for hosting server resources, but it's powerful too. Smaller stores enjoy the Woocommerce plugin for WordPress, which is very friendly and nice. Medium size stores are often based on Prestashop software, which has a lot of built-in capabilities too.
There is also a popular OpenCart shop software, but it's even not having an auto-update module for itself. In OpenCart you should make updates via FTP, using their vQmod, no fun. They still don't have features, that are already present in Prestashop and Woocommerce, though it now supports multi-language and multi-currency features. I can't advise it. There are also some Joomla shopping plugins, but I had enough with Joomla already, though the last versions are better.
I would discuss now Woocommerce and Prestashop, which are both are capable of updating themselves automatically, the feature that is important to me. Otherwise, we'll be stuck with very old software, very insecure and vulnerable to hacking robots.
Woocommerce and Prestashop
So these are 2 options I'm giving to my clients to choose. The first question is about how many languages they want for the store. Having several languages in a store is painful not only for a developer. It is also a huge amount of work for a store owner.
The store mustn't have any flaws in texts, otherwise, its customers would not buy anything, as the trust is building out of look and feel of the site. Therefore all texts must be put to each language version you make, having empty pages in some language version is out of the question. A client must be prepared to put a lot of effort into filling in each language version of his site.
If a client is ready to make a site in several languages, we should choose software to build it. Here we choosing from Prestashop to Woocommerce.
Woocommerce

Woocommerce is extremely user-friendly, and it is based on a great WordPress engine. It's updating itself regularly and 90% of updates are going smoothly, without a need to fix things after updates. But it doesn't have a multilingual functionality inside. To have it with multiple languages you'll have to use the WPML plugin, which is officially supported by Woocommerce. There are some other plugins, trying to do so, but they are all don't fit in time with Woo frequent updates. So using WPML is a must here. And it has a considerable cost ($79/year – $195/one-time).
Also, Woocommerce doesn't have Distributors functionality out of the box. And modules for Woocommerce (and for Prestashop too) are 80% not free and have some, often high price, unlike most WordPress plugins, which are usually free of charge. On the other hand, you'll have the whole WordPress plugins repository for anything you could imagine. Usually, you may find any functionality plugin already done ready, as a plugin to your WP site.
And finally, if the client is planning to have a lot of products the site could become too heavy and you'll be forced to use a paid CDN service, besides regular caching plugins.
Prestashop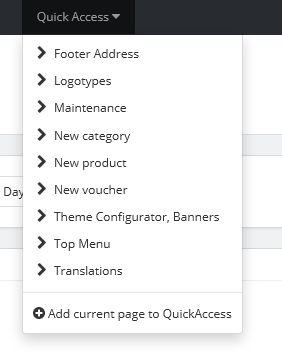 It has many options bundled with the shop. Distributors (groups of customers) with an option to give them different discounts, coupons (as in Woocommerce). Customer support system with mails on statuses of order inside the store's back-end. PDF invoices. Built-in multilingual support with an option to edit any text present in the system. It's a bit less intuitive, but still very usable. Many options are hidden in specific modules, and you'll have to search for them. But things could be added into their "Quick Access" back-end menu, and then it's easy to find a needed page or module.
Prestashop is probably capable of having more products. It has built-in caching options, so it could be fast enough too.
It has some drawbacks too. For example, you can't easily change the site's contact form predefined fields, or can't create a new form somewhere. You'll have to buy a costly module for that.
Another problem is Prestashop's automatic update module. It works well in about 50% cases, though it's getting better all the time, and modules are updating mostly OK if you followed their guidelines for theme and modules development. Otherwise, it will wipe out your modifications, as well as in WordPress. Nothing new. But a few years ago before Christmas Prestashop's French developers released a big update to Prestashop's core, and I was stupid enough to update some shop. That resulted in 2 weeks of fixes made for this shop. A crazy thing…
So What to Choose for Web Store?
If you have to do a multilingual site with distributors, don't care much about upgrades – choose Prestashop.
If you need a simpler 1 language shop, you'll really enjoy Woocommerce.
And please don't touch Joomla, if you are not were born Sherlock Holmes and Magento too, not being A. Pinkerton.